JETCOAT 
All-Weather Pothole Patch
Rapid Setting
Works in All Temperatures
Works in Wet or Dry Conditions
Immediately Ready for Traffic
Easy to Apply – Just Pour and Tamp
Sizes Available:
50 lb Bag – Coverage: 5 sq. ft. at 1″ Thickness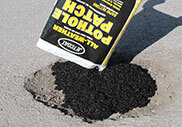 Description
JETCOAT All-Weather Pothole Patch is a rapid setting pothole patch designed for filling potholes and depressions in driveways, parking lots, roads, and other pavement surfaces. It can be used in both wet and dry conditions.
Uses
• For Driveways, Parking Lots, Roads, and Other Pavement Surfaces.
Application
Fill pothole or depression to a height of 1/2 inch above surrounding pavement. For deeper depressions apply in 2 inch lifts and tamp, repeat until filled. Tamp into place with a shovel, hand tamper or vehicle tire.
Note: If material is too hard, place in warm room or open bag and place in direct sunlight until soft.
CALIFORNIA PROPOSITION 65 CHEMICAL WARNING:
This product does not contain any California Proposition 65 Chemicals.
| Item Number | Unit Size | Pack | Pack Weight |
| --- | --- | --- | --- |
| 23753 | 50 lb. Bag | 1 | 50 lbs. |